Introduction
Are you unsure how to record your critical business phone calls? Did you know that 68% of businesses believe that effective call recording could enhance their customer service and operational efficiency? In this blog, we're going to walk you through the easy steps with CallScaler, an efficient solution to record your important communications.
Let's dive in and make those jumbled conversations a thing of the past.
Key Takeaways
CallScaler is a tool that can easily record business phone calls with just a click.
It helps in improving internal communications and sales service calls.
You don't need extra hardware or apps to use CallScaler.
The setup of the account on CallScaler is easy, anyone can do it.
Recorded calls are stored safely on cloud storage for easy access and review.
With the one-click recording feature, important details during business conversations never get missed.
Recording business phone calls using CallScaler adheres to necessary regulations ensuring compliance and security.
The Importance of Recording Business Phone Calls
Recording business phone calls is crucial for accelerating internal communications, enhancing call quality in sales and service sectors, ensuring policy compliance, and fostering an overall robust business management strategy.
Streamlining internal communications
Streamlining internal communication offers countless advantages to businesses. Implementing a reliable call recording system, like CallScaler, ensures that every vital detail is captured during phone conversations.
This negates the need for repetitive clarifications and provides an accessible source of reference when required. As well as fostering team collaboration by making important information easily shareable, it also aids in identifying areas that require attention or improvement.
With fewer misunderstandings and more efficient decision-making processes, organizations can experience increased productivity and overall operational effectiveness. Transparent communication channels are integral to business success; integrating comprehensive call recording can be a significant step toward achieving this goal.
Improving sales and service calls
Using CallScaler technology can dramatically enhance your sales and service calls. This innovative tool records each call, helping to create a more insightful view of interactions with clients.
You gain a better understanding of customer needs and responses, which can lead to a boost in both sales performance and customer satisfaction.
Call recordings offer an essential resource for training staff. Supervisors can identify best practices or areas needing improvement by reviewing these files. This immediate feedback allows employees to refine their approach in future calls swiftly.
Ultimately, this could result in increased efficiency and effectiveness of communication within your business operations.
Introducing CallScaler: The Easiest Way to Record Business Phone Calls
CallScaler, a leading call recording service, simplifies the process of capturing business phone calls with its user-friendly features such as one-click recording from call flows without requiring any extra hardware or apps.
One-click recording from call flows
With a simple click, users can initiate the recording functionality during call flows. Turning on this feature is straightforward and does not interrupt or compromise the quality of the ongoing call.
Users appreciate how easily they can capture valuable information without getting distracted from their conversation. The efficient design of CallScaler's user interface makes it easy for anyone to record calls quickly, ensuring no detail gets missed in your business communications.
No additional hardware or apps needed
CallScaler simplifies the process of recording business phone calls by eliminating the need for additional hardware or apps. You can record calls directly on your current device without downloading specialized software.
Unlike other call recording methods, CallScaler operates seamlessly within your existing communications system. This easy-to-use solution reduces costs and increases efficiency, making it an ideal choice for businesses looking to streamline their internal communications with telephone call recording capabilities.
How to Record Business Phone Calls with CallScaler
To record business phone calls with CallScaler, you first need to set up your account. Once that's done, recording is as simple as a one-click process during the call. After the call, you can easily access and utilize these recordings for review and analysis.
Setting up your account
Initiating your CallScaler account for business call recording is a straightforward process. Here are the steps:
Visit the CallScaler website.
Click on "Sign Up" located at the top right corner.
Provide necessary information, such as name, email address, and phone number.
Click on "Create Account".
Create a call flow and enable the call recording feature as shown in the screenshot below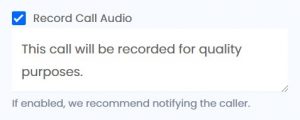 One-click recording during outbound calls
Making a recording while on a call with CallScaler is incredibly straightforward. This feature essentially translates into the following steps:
Start your business phone call as normal.
Locate the "Record" button on the CallScaler interface during your live conversation.
Click on this button to start recording instantly.
Continue your conversation without any interruptions from the recording process.
Accessing and using call recordings for review
Accessing and using call recordings for review is a straightforward process with CallScaler. Here are the steps:
Log in to your CallScaler account from your device.
Navigate to the "Call Logs" section on your dashboard.
Look for the required call record using date, time, or caller ID filters.
Click on the 'play' button next to the desired call recording to listen directly from the platform.
Download the recording if needed for further analysis or sharing.
Use keywords during playback to jump directly to important parts of phone conversation recording.
Other Benefits of Using CallScaler for Recording Calls
CallScaler not only allows easy recording of business phone calls but also offers a hassle-free management system to access and review these recordings anytime. This cost-effective tool ensures your business stays within compliance policies, eliminating any legal hiccups that may arise from call recording.
Easy access and management of call recordings
With CallScaler, managing and accessing recorded calls becomes a hassle-free task. Once a call is recorded, it automatically gets stored in your secure cloud-based storage. A well-organized dashboard allows you to browse through all recordings systematically with just a few clicks.
This feature not only simplifies the retrieval process but also minimizes time spent hunting down specific conversations. You can conveniently streamline record management by sorting calls based on different parameters like date, duration or the involved parties right from your CallScaler portal.
With such easy access and proficient management of call recordings, businesses can now effortlessly review their interactions for improved service quality and customer satisfaction.
Cost-effective solution
Using CallScaler for your call recording needs saves you money. There's no need to invest in expensive hardware or additional applications. Instead of juggling multiple tools, the platform offers a comprehensive feature-set that takes care of all your business call requirements at a competitive price.
Its easy-to-use interface eliminates training costs and its operational efficiency reduces time wasted on technical issues. By choosing CallScaler, businesses big and small can optimize their communications budget while reaping the benefits of professional-grade call recording capabilities.
Complies with compliance policies
CallScaler demonstrates strong compliance with prevailing call recording laws and regulations, making it a trusted choice for businesses. It ensures all recorded conversations are stored securely, protecting confidentiality and maintaining data integrity.
With its built-in features that automatically inform all parties involved about the recording, CallScaler helps to meet legal requirements effectively. This adherence to compliance policies instills peace of mind in both business owners and customers using the service.
Record Phone Calls on Android and iPhone with CallScaler
CallScaler offers a seamless experience for recording business phone calls on both Android and iPhone devices. Let's walk through the process:
First, sign up for CallScaler
Log in to your account or set up one if you haven't done so already.
Once logged in, set up a call flow and locate the recording feature on the right.
Enable this feature with just one click.
Now, whenever you make or receive a call forward from the CallScaler app, it will automatically get recorded.
These recordings will instantly save on your CallScaler account for easy access later on.
You can review these calls directly from your smartphone or even from your desktop by logging into your online account.
Finally, sharing and analyzing these call recordings is as simple as clicking a couple of buttons.
Conclusion
With CallScaler, recording business phone calls is as simple as a click. It doesn't just enhance your internal communications and improve service calls but also ensures compliance with policy management.
So, whether you're using an Android or iPhone, discover a user-friendly way to stay on top of your business communication today!
FAQs
1. Why might I want to record business phone calls?
Recording business phone calls can be useful for reviewing details, ensuring accuracy of information communicated, and training purposes.
2. Is it legal to record business phone calls?
Yes, it is legal to record business calls in many jurisdictions as long as all parties consent to the recording. We recommend double checking for your specific location though.
3. Can I save recorded business phone conversations for later use?
Absolutely! Most call-recording tools like CallScaler allow you to store recorded conversations either locally or in the cloud so you can review them whenever needed.
4. Do all parties need to know that the call is being recorded?
In many regions, it's required by law that all participants in a conversation are informed about and consent to any recording taking place.